SEWP V Ordering Process
The internal ordering process of each agency varies. The process and accompanying forms for PR's and DO's that are issued against a SEWP contract is defined by the issuing agency and not the NASA SEWP PMO. The typical process, however, is for an end-user to determine a requirement and generate a purchase request (PR). The PR along with any necessary funding information is sent to that Agency's procurement office which results in the issuance of a delivery order (DO). Any valid Federal Agency DO form and the associated delivery order number may be used. The NASA SEWP PMO does not issue DO's -these must be issued through the issuing Agency's procurement office. The SEWP PMO reviews, processes and tracks issued DOs and forwards them to the Contract Holder(s).
Some agencies have special requirements for issuing IT Delivery Orders. It is the Issuing Agency's Contracting Officers' (COs/KOs) responsibility to be aware of any agency-specific policies regarding issuing orders via an existing contract vehicle and Government Wide Acquisition Contracts. There are no requirements under the SEWP Contracts for issuing agencies to use other intermediary procurement offices, except as directed through their own internal policies.
Regardless of Agency-specific Ordering processes, the general flow for SEWP V orders is: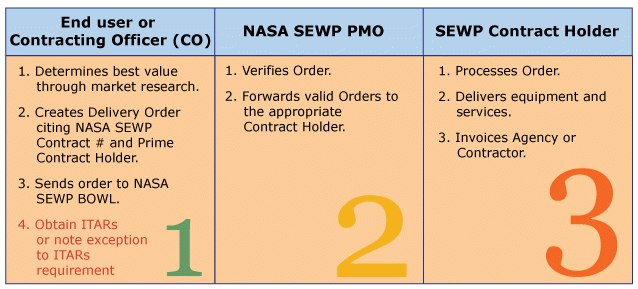 Download a pdf of the SEWP Order Process Flow
Text Description of SEWP Order Process Flow
End User or Contracting Officer (CO)
Determines best value through market research.
Creates Delivery Order Citing NASA SEWP Contract # and Prime Contract Holder
Sends order to NASA SEWP BOWL.
Obtains ITARs or note exception to ITARs requirement
NASA SEWP PMO
Verifies Order
Forwards valid orders to the appropriate Contract Holder
SEWP Contract Holder
Processes Order
Delivers equipment and services
Invoices Agency or Contractor
Read Important SEWP Order Process Information
If modifications are made to any order, these modifications must also route through the SEWP PMO.
To assist you in preparing your delivery orders, below you will find important information in reference to processing delivery orders through the SEWP Program office. Please feel free to contact the SEWP helpline if you have any questions concerning your purchase orders, our web-tools or any SEWP related topics at 301-286-1478. Our hours of operation are as follow Monday - Friday 7:30 am to 6:00pm EST.
Delivery orders are required to contain the following information for processing. If the below information does not appear on the delivery order, the order may not be processed or processing may be delayed.
Delivery Order Number (any valid Government DO is allowed)
Quote from a SEWP Contract Holder verifying the viability of the order
SEWP Fair Opportunity Form for orders over $5 Million
Date Delivery Order Issued
SEWP Contract Number
SEWP Contract Holder's mailing address and phone number
Issuing Office: Agency Name and Mailing Address
Ship to Office: Agency Name and Mailing Address
Total dollar amount of order
Contracting Officer's Signature
Contracting Officer's Phone Number
Date Delivery Order Signed
Line Items/Pricing