Careers at Four Points Technology
Always Looking for Talented, Dedicated People
Four Points Technology is always looking for talented, dedicated individuals to help us provide the best service and support to our customers. Do you believe in always putting the customer first? Do you have experience in areas that include Program Management, Project Management, Software Development, Network Support, Training Specialists, Customer Service, Sales, or Sales Support?
If you have the desire to be successful by helping our customers succeed, please contact us.
Why work at Four Points?
Four Points Technology believes in investing in its employees. We offer a competitive and comprehensive benefit package with some benefits that begin on your first day of employment.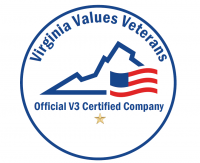 Four Points is a V3-Certified Company
Benefits
Insurance
Medical
Vision
Short & Long-term disability
Dental
Life Insurance
Accidental Death & Disability Dismemberment
Vacation/Holidays
3 - 4 weeks paid time off (PTO)
2 - 3 personal days per year depending on employee's length of service
11 paid holidays per year
401(k)
A wide variety of investment options
Company-provided, fixed 401k contribution
For more information on a career at Four Points Technology, please e-mail our Human Resources Department at careers@4points.com
Four Points Technology, LLC is an equal opportunity employer. Employment decisions at Four Points Technology are based on merit, qualifications and abilities. All decisions concerning the employment relationship are made without regard to age, race, color, religion, creed, sex, national origin, marital status, veteran status, the presence of any physical or mental disability, genetic information or any other status or characteristic protected by federal, state, or local law. Discrimination or harassment based upon any of these factors is wholly inconsistent with our company values and will not be tolerated.