Check Point Harmony
The Industry's first unified security solution for users, devices and access
Protecting today's hyper-distributed workspace requires endless security functions across user devices, applications, and networks. However, stitching together point solutions often leaves security gaps and creates a cumbersome infrastructure that is difficult to manage and scale. Harmony offers an alternative that saves you the overhead and increases security.
Harmony Unifies 6 Cloud-based Security Products to Keep Remote Workforce 100% Safe
Wherever you connect from, whatever you connect to, and however you connect – Your home, your devices, your privacy and your organizational data are secured and protected from any cyber threat.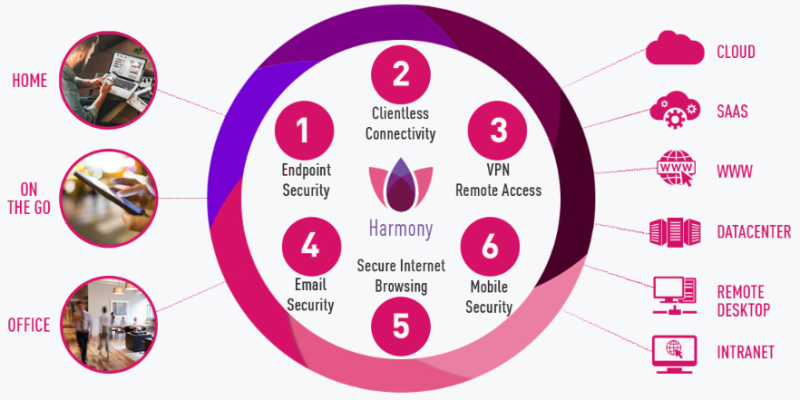 Harmony: 360° User Protection Against All Attack Vectors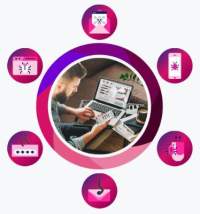 Whether it's a phishing attempt, a malicious email attachment, or zero-day ransomware, Harmony protects users from all cyber threats, across all attack vectors. Powered by revolutionary AI engines and the industry's most extensive threat intelligence network, Harmony stop attacks before they happen.
Secure Access Service Edge (SASE)
Harmony Connect is redefining SASE by making it easy to connect any user or branch to any resource, without compromising on security.
The solution unifies multiple cloud-delivered network security services and offers you the flexibility to choose between:
- Clientless and client-based remote access to enterprise applications
- Secure internet access for users and branch offices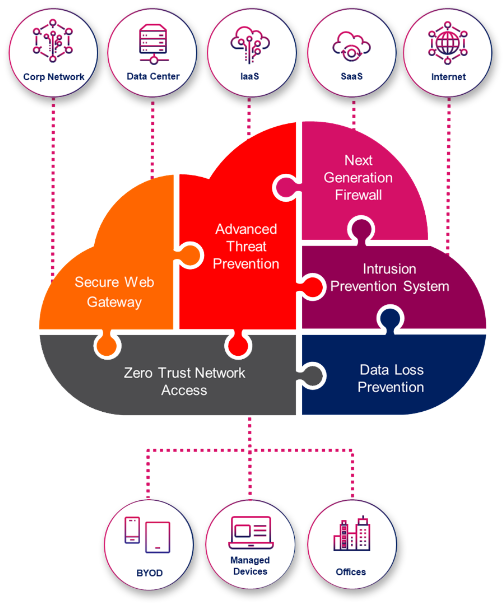 Three years into the pandemic, the world is still predominantly working remotely. With users working anywhere and using their mobile phones and laptops to access corporate applications, your attack surface has never been wider.
Check Point Harmony delivers the highest level of security for remote users in a single solution that is easy to use, manage and buy. In this session, we present the new capabilities of the Harmony suite products and how they help you better secure your remote workforce.
For more information on Check Point Harmony, contact Four Points at sales@4points.com or at (703) 657-6100.