Comprehensive Cloud Data Security from Four Points Technology
Do you have assurance that your cloud workloads and data are secure?
Do you need a solution to protect data wherever it is stored?
Do you have FedRAMP requirements? Do you have FISMA Medium or High requirements?
Is your data appropriately and sufficiently encrypted in the Cloud?
Are you sure that your applications are secure and are not attack vectors?
Can you track and demonstrate compliance with federal cloud security requirements?
It is projected that by 2020, 50% of all corporate data will reside outside the data center.
Purpose Built for the Cloud
Whatever data the customer may store in the Cloud, Four Points Technology's combined cloud security solution, composed of Check Point and Druva, provides comprehensive protection and security for data and applications. While the solution ensures secure connectivity in both Cloud and on-premise environments, it also protects against data loss and data leaks while streamlining data governance.
Customers need a comprehensive cloud security solution that secures and protects data and workloads, encrypts sensitive data, and ensures compliance with Federal security mandates. Customers who implement a hybrid cloud solution – data in the Cloud and on-premise – require the same level of protection, even though the solutions that provide security may differ.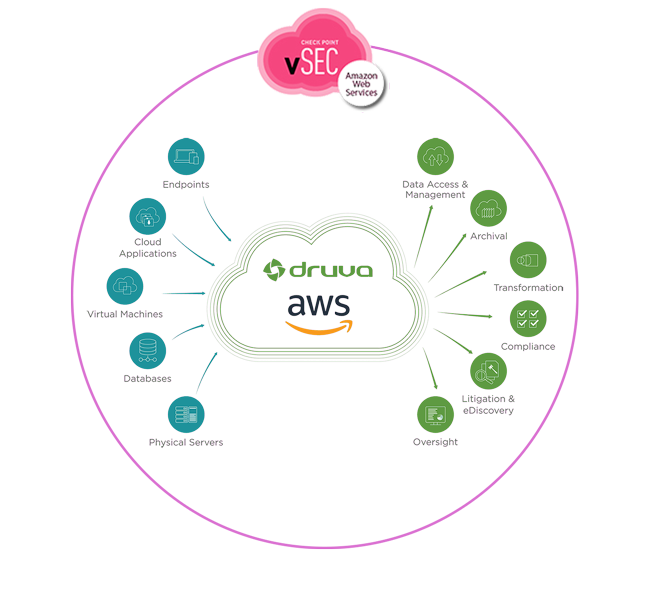 Data Security in the Cloud
Firewall, IPS, Antivirus, and Anti-Bot – protect services from unauthorized access and attacks
Application Control – prevent denial of service attacks and protect cloud services
IPsec VPN – provide secure communication into cloud resources
Mobile Access – allow mobile users to securely connect to the Cloud via an SSL encrypted connection using two factor authentication and device pairing
Data Loss Prevention – protect sensitive data from theft or loss
SandBlast Zero-Day Protection – the most comprehensive malware and zero-day attack protection
Unifed Logs and Reporting – simplify compliance and audits for hybrid cloud environments
Centralized Management – consistent security policy enforcement for AWS and on-premise from one console
Hypervisor Agnostic – Supports multiple industry standard hypervisors. Customers who have on-premise, off-premise, or resources in the Cloud can utilize these capabilities.
Backup & Recovery in the Cloud
VM Backup and Recovery – provides immediate failover for critical workloads with easy configuration
Workload Mobility – easy on-demand conversion and replication for test & development
Cloud Deployments – vCenter integration, auto-discovery, and scaling with existing infrastructure
Auto-Tiering – VM snapshots are retained and stored ensuring both short-term recovery and long-term compliance
Compliance – high performance metadata and fulltext search
FedRAMP Authorized, FIPS 140-2 validated, HIPAA and SOC2 audited
Data Loss – safe from corruption, accidental deletion, or lost devices
Data Leaks – prevent mishandling of sensitive information by users
Data Governance – single-point policy enforcement
Combined Security Solution for Multiple CSPs
This combined security solution works with multiple CSPs, please contact Four Points for more information.
Contact Us for More Infomration
For help getting started with a combined Druva and Check Point cloud security solution, contact Four Points at sales@4points.com or at (703) 657-6100.