Wickr is the most trusted collaboration platform in the world. Why?
Complete Security
Wickr protects all of your communications with 256-bit end-to-end encryption developed by leading U.S. experts. A new random key is created for every call,message, or file, and even Wickr can't access the decryption keys. With our zero trust platform design, your communications are completely secure from any foreign or domestic threats.
Total Compliance
Wickr allows you to secure your communications while remaining totally compliant with industry regulations. While most working-level communications should never be stored for security purposes, some information must be maintained for HIPAA, FINRA, FOIA, FRA, e-discovery, auditing purposes, and more. Wickr allows organizations to selectively log communication sessions to a secure customer-defined data store when required.
Full Control
Wickr gives you full administrative control over your data, allowing you to take charge of your own security. Control permissions, set expiration timers, define security groups, and ensure that your setup is specifically tailored to your organization. In addition, Wickr comes ready to integrate with services like Active Directory, SSO via OIDC, MDM, and more.
FEATURES AND CAPABILITIES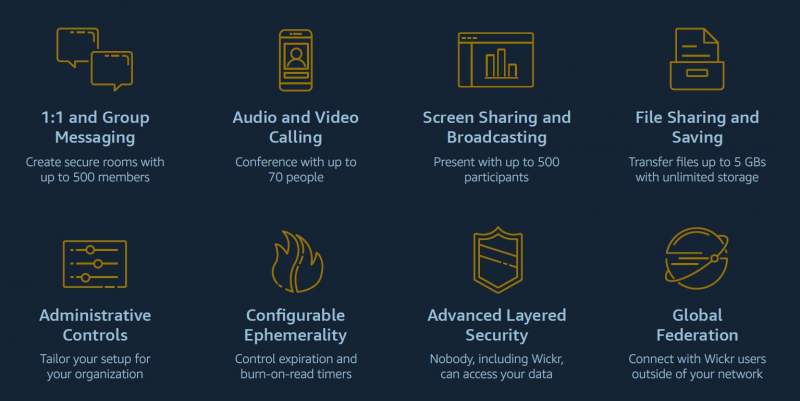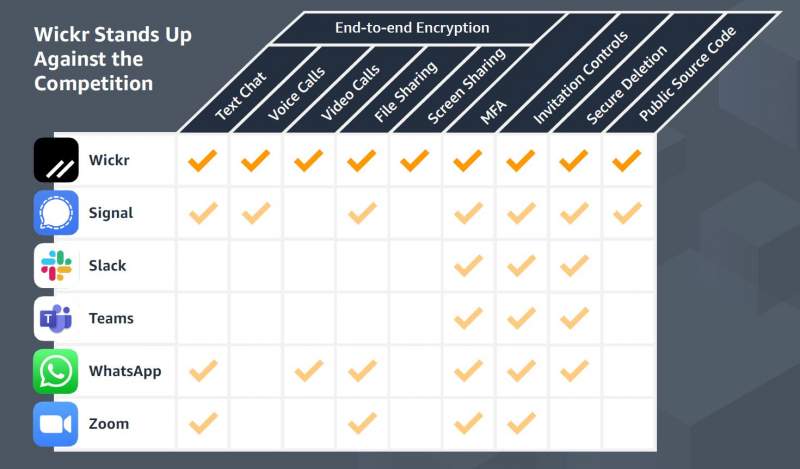 Communication without Compromise


With Wickr, all user data is encrypted on the sender's device and only the recipient can access it. Nobody else has the keys to decrypt your conversations or documents, including Wickr. Your communications are not stored on a server and you control how long each message and file lives. Always.
Protect Against Business Email Compromise (BEC)
According to the FBI, BEC crimes accounted for $1.77 billion in losses in 2019
Wickr utilizes simple user verification, so no one can impersonate a coworker or mask their identity. Wickr verifies that you are who you say you are, and that who you are sending something to is also who they say they are. You will also be alerted if someone is "Out of Network" to ensure that you are only sharing valuable information with the appropriate parties.
Simplify and Secure Your Organization's Communication
Productivity increases by 20 to 25% in organizations where employees are connected
Many organizations use multiple platforms to handle email, teleconferencing, messaging, file sharing, location sharing, and more. Wickr can not only handle all of these functions in a single application, it can do so with full end-to-end encryption.