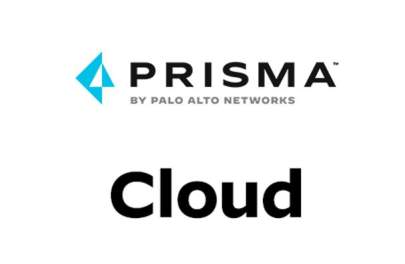 Palo Alto Networks Prisma Access At a Glance
Prisma Access for Mobile User
Mobile users need consistent security to access data centers and cloud applications. Remote access virtual private networks (VPNs) fall short because users typically connect to a gateway for access to data center applications, and then disconnect from the VPN to get better performance (but less security) when accessing cloud and internet applications. Prisma Access brings protection closer to users so traffic doesn't have to back-haul to headquarters to reach the cloud. Prisma Access also includes native Digital Experience Monitoring (DEM) to provide network administrators with segment-wise insights across the entire service delivery path, including endpoint devices, Wi-Fi, local area networks (LANs), VPNs, internet, application performance, and Prisma Access itself. The solution monitors the conditions affecting the user experience and performs automatic remediation as needed. Standalone VPNs and other remote access solutions also fall short by providing users access to entire LANs or applications without inspecting traffic or assessing the security posture of the connecting device. Prisma Access provides, in a client-based or clientless form, identity-based Zero Trust Network Access to the applications and services users need. The GlobalProtect™ app also lets you establish access policies based on host information profile (HIP), enabling even more granular security policies tied to device characteristics—such as operating system, patch level, and the presence of required endpoint software—when accessing sensitive applications.
Prisma Access for Network
Many branch offices and retail stores are geographically distributed and lack full-time IT staff, making deployment, management, change control, and hardware refreshes difficult. Prisma Access can be used to connect remote networks over a standard IPsec connection—using any existing router, software-defined wide area networking (SD-WAN) edge device, or firewall that supports IPsec—to secure traffic, protect confidential information, and address data privacy needs. Prisma Access supports SD-WAN options using Palo Alto Networks Next-Generation Firewalls (NGFWs), CloudGenix SD-WAN, and third-party vendor products.
Prisma Access Service
Prisma Access delivers both networking and security services
Networking
• SD-WAN—support for our NGFWs and integration with CloudGenix SD-WAN as well as third-party offerings.
• VPN—options for connecting users and networks, including IPsec, SSL/IPsec, and clientless VPN.
• Explicit Proxy—an alternative method for mobile users to connect to Prisma Access that secures internet and SaaS application traffic (HTTP/HTTPS).
• Quality of Service (QoS) — prioritization of bandwidth for critical applications.
• Digital Experience Monitoring—visibility into the entire service chain between users and applications.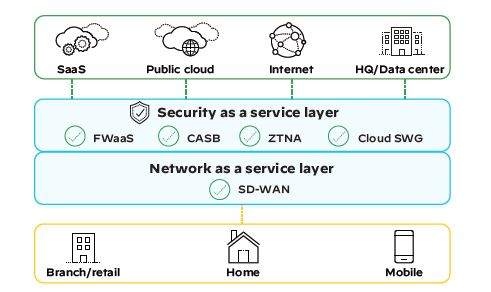 Security
• Firewall as a Service (FWaaS)—NGFW security for branch offices and retail locations.
• Cloud Secure Web Gateway (SWG)—blocking of malicious sites using static analysis and machine learning.
• Zero Trust Network Access (ZTNA)—service- and application-specific access control.
• DNS Security—advanced analytics and machine learning to stop threats in DNS traffic.
• Threat Prevention—blocking of exploits, malware, and command-and-control (C2) traffic using threat intelligence. AI/ML-powered scanning protects against previously unseen threats.
• Data Loss Prevention (DLP)—prevention of data breaches, along with enhancements to data privacy and compliance.
• Cloud Access Security Broker (CASB)—governance and data classification to stop threats with inline and API-based security.
• Sandboxing—zero-day threat prevention with the industry-leading WildFire® malware prevention service.
• IoT Security—protection for every device on your network, delivering ML-powered visibility, prevention, and enforcement in a single platform.
Palo Alto Networks Prisma Cloud At a Glance
Comprehensive Cloud Native Security. Full Lifecycle. For Any Cloud.
Prisma™ Cloud is the industry's most comprehensive cloud native security platform (CNSP), with the industry's broadest security and compliance coverage—for applications, data, and the entire cloud native technology stack—throughout the development lifecycle and across hybrid and multi-cloud environments.
The platform offers an integrated approach that enables security operations and DevOps teams to collaborate effectively and accelerate secure cloud native application development. Prisma Cloud protects and integrates with cloud native architectures and toolkits to ensure complete security coverage while breaking security operational silos across the entire application lifecycle. Fundamentally, it enables DevSecOps adoption and enhanced responsiveness to the changing security needs of cloud native architectures.

Prisma Cloud Pillars
Cloud Security Posture Management (CSPM)
Effective cloud security requires complete visibility into every deployed resource along with absolute confidence in their configuration and compliance status. Prisma Cloud takes a unique approach to CSPM, going beyond mere compliance or configuration management. Vulnerability intelligence from more than 30 sources provides immediate risk clarity while controls across the development pipeline prevent insecure configurations from ever reaching production in the first place. Prisma Cloud provides:
• Visibility, compliance, and governance
» Cloud asset inventory
» Configuration assessment (runtime)
» Compliance monitoring and reporting
» Infrastructure-as-code (IaC) configuration scans (IDE, SCM, and CI/CD)
• Threat detection
» User and entity behavior analytics (UEBA)
» API-based network traffic visibility, analytics, and anomaly detection
» Automated investigation and response
• Data security (AWS® support only)
» Data classification
» Malware scanning
» Data governance
Cloud Network Security
Network protection must be adapted for cloud native environments while still enforcing consistent
policies across hybrid environments. Prisma Cloud detects and prevents network anomalies by
enforcing container-level microsegmenta- tion, inspecting traffic flow logs, and leveraging
advanced cloud native Layer 7 threat prevention:
• Network visibility and anomaly detection
• Identity-based microsegmentation
• Cloud native firewalling
Cloud Workload Protection
The cloud native landscape is constantly evolving. New platforms and technologies allow organizations to deploy more rapidly and at greater scale than ever.
Prisma Cloud delivers full lifecycle protection across public and private clouds as well as on-premises environments. You can easily integrate security into the
leading continuous integration/continuous delivery (CI/CD) workflows, registries, and running stacks.
Security modules include:
• Host Security
» Vulnerability management
» Runtime security
» Compliance management
» Access control
• Container Security
» Vulnerability management
» Runtime security
» Compliance management
» Access control
» Git repository scanning
• Serverless Security
» Vulnerability management
» Runtime security
» Compliance management
» Access control
• Web Application and API Security
» OWASP Top 10 protection
» API protection
Cloud Infrastructure Entitlement Management
Traditional manual methods for determining least-privileged access make it difficult for security teams to keep up with the growing number of entitlements across cloud services. Prisma Cloud continuously detects and automatically remediates identity and access risks across infrastructure-as-a-service (IaaS) and platform- as-a-service (PaaS) offerings. It discovers all
human and machine identities across cloud environments, and then analyzes entitlements, roles, and policies. Prisma Cloud provides:
• Permissions visibility
• IAM governance
• Automated response
• User and entity behavior analytics (UEBA)
Palo Alto Networks, the global cybersecurity leader, is shaping the cloud-centric future with technology that is transforming the way people and organizations operate. Our mission is to be the cybersecurity partner of choice, protecting our digital way of life. We help address the world's greatest security challenges with continuous innovation that seizes the latest breakthroughs in artificial intelligence, analytics, automation, and orchestration. By delivering an integrated platform and empowering a growing ecosystem of partners, we are at the forefront of protecting tens of thousands of organizations across clouds, networks, and mobile devices. Our vision is a world where each day is safer and more secure than the one before.
For more information on Palo Alto Networks, Prisma Access or Prisma Cloud, contact Four Points at cybersales@4points.com or at
(703) 657-6100.